Learning Salesforce Basics: Tips for New Admins
Our tips for getting started and learning the Salesforce basics as a new administrator.
So, you're a new admin. Maybe you stumbled into this role and have become one of Salesforce's hundreds of #AccidentalAdmins. Maybe you saw Salesforce's potential for your organization and wanted to grow in your job and take on a new challenge. Maybe you were your organization's administrator for a legacy database such as Raiser's Edge or Donor Perfect until you migrated. For whatever reason, you have found yourself newly administering an instance of Salesforce. Welcome!  
When my organization switched to Salesforce and I found myself as our administrator, I spent a lot of time learning through trial and error, running in a circle because I didn't even realize a solution already existed or unable to fill a basic gap that everyone else seemed to understand but me. I'd like to save you some of that time with a brief overview of some of the basics for a brand new admin. 
Learn Fundamental Salesforce Terminology 
Entering the Salesforce ecosystem, it can suddenly feel like everyone has started talking in a new language. Time to learn some lingo. The first thing to understand is that Salesforce has two main user interfaces that each look very different and (currently) have different features. As of now, you can still switch between them as needed. If your organization is new to Salesforce, you're almost certainly using Lightning Experience (LEX).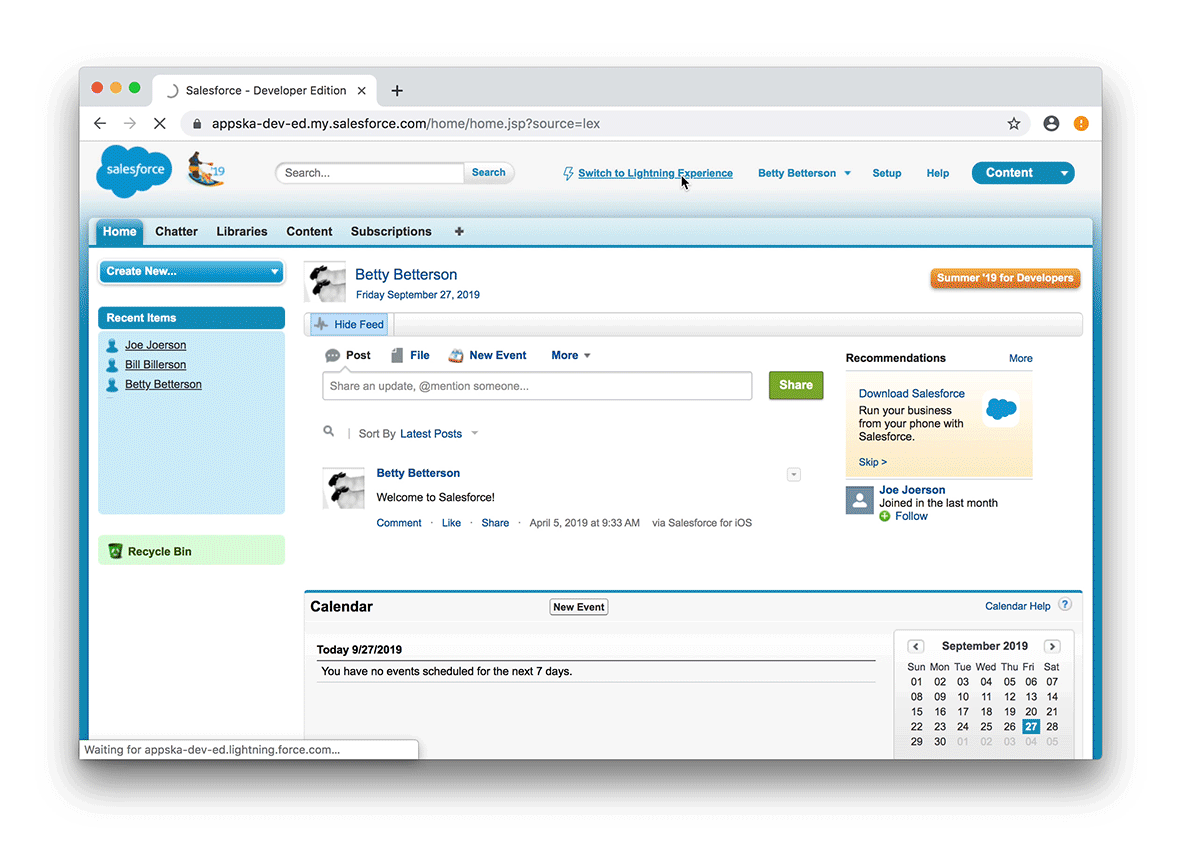 Lightning has a sleeker UI and it's where Salesforce is focusing its new features and improvements. If you're taking over an older organization, you might still be using Classic. As Salesforce continues to innovate with Lightning, there are increasing incentives for clients to consider migrating to Lightning. 
If you're new to Salesforce, particularly if you're mainly using the Nonprofit Success Pack (NPSP) you might also be shaking your head when people start talking about "clouds".  Service Cloud. Sales Cloud. Marketing Cloud. Nonprofit Cloud. A better way to think of each of these products is as a Salesforce App. Just like you probably have a collection of apps on your phone and computer, each with different purposes, Salesforce has the same. Do you need to focus on selling your product or your development efforts? You need Sales Cloud. Are you looking for a case management solution for your service agents? Service Cloud's for you. There are also industry-specific clouds, tailored to the common needs of your business, such as Nonprofit Cloud, Financial Services Cloud, or Health Cloud.

Lastly, every admin needs to understand the fundamental building block of Salesforce: objects.  See those tabs at the top of your screen? Those are objects. The best way to think about objects is like sheets of excel data.  The individual records (e.g. Suzy Smith) are the rows and the fields are the columns. If you've ever had a spreadsheet of sponsors, you'd find them living in the Account object in Salesforce.  They're groups of similar data and these different objects are then all linked to each other through Salesforce's data model. 
Move Beyond Editing a Record
For me, the hardest thing with learning is figuring out what I need to learn.  An administrator's learning journey might best be seen as advancing through mastery of three main areas of focus: edit, organize, and automate.  For instance, as a new Salesforce admin, the first thing to learn is how to edit a page layout, and how to create and add custom fields. These are the fundamentals every admin needs to know.  
After that, you can start learning how to consolidate and reconfigure the data in the form of reports, dashboards, record types, and output on records using basic formulas.  During this phase, an admin becomes familiar with back-end Setup and settings such as User Management and Company Settings. Finally, advanced admins learn how to use Process Builder, Flows, Workflows, and advanced formulas to automate their business processes and save their users time and effort.
Do More with AppExchange Applications 
Congratulations! You're well on your way to figuring out the basics of Salesforce.  You've realized there's some amazing things you can do with it. What happens when you want to add functionality to Salesforce that doesn't come out of the box?  Salesforce's AppExchange offers thousands of solutions for many of the most common business pain points. Many apps are free or offer discounts for nonprofits (we at Arkus offer two apps, Permissioner and Clone this User).  Want some ideas of where to start? Check out Mendi's blog post on some of Arkus' recommendations for the best free apps for nonprofits.    
What Comes After Learning the Salesforce Basics?
So…what now?  You're still overwhelmed with all the possibilities? Excited to get started?  Wherever you want to go from here, you're going to need to learn more. For starters, you can check back on this blog each week for helpful tips on everything from new Salesforce release highlights to the best way to get the most out of Salesforce's common features.  
Secondly, get plugged in with the Salesforce Trailblazer Community. It's a great way to ask questions and also to hear about local Salesforce events, classes, and communities.  Above all, though, I recommend Salesforce's online learning platform: Trailhead. It's free and allows you to customize what you learn both by topic and skill-level, whether it's admin basics or lightning migration or nonprofit cloud.  Trailhead is a great way to fill in gaps, gain new knowledge, and keep growing your skillset. 
 Where are you in your admin journey? Have more questions about the Salesforce basics for new admins?  Tell me all about it on the Salesforce Trailblazer Community or chat with me on twitter @KPuzzanghera.