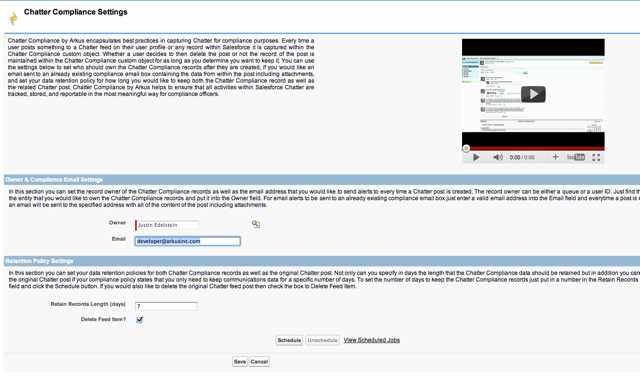 Compliance Locker
A quick case study on compliance as it relates to Salesforce.com's Chatter product and a free tool by Arkus that can solve the requirements.
The "Social Enterprise" is upon us as Salesforce.com's chairman and CEO Marc Benioff proclaimed at this years Dreamforce. At the heart of the Social Enterprise is the Employee Social Network leveraging Salesforce Chatter. Since Chatter was released by Salesforce.com a couple of Dreamforce's ago and as clients began to adopt it; use cases started to surface that needed to be addressed before firms are able to use it.
The Use Case

As a consulting firm that spends a lot of time in the financial services industry the number one use case in question surrounding Chatter was about audit and compliance. Considering the recent turmoil with the financial services industry it is critical for any type of technology, especially one that revolves around electronic communication, to meet compliance standards. Many of questions we heard were: Can we export the history of Chatter? What if we want to delete Chatter records after a number a years? What if a user deletes a Chatter post? These questions and more have been coming up and if Chatter is going to take off in regulated industries, these compliance and audit questions need to be addressed.
A Solution

After hearing the use case over and over from more then a few clients we felt the urge to help out. On August 27th, 2011 Compliance Locker was released on the AppExchange. Compliance Locker by Arkus encapsulates best practices in capturing Chatter for compliance purposes. Every time a user posts something to a Chatter feed on their user profile or any record within Salesforce it is captured within the Chatter Compliance custom object. Whether a user decides to then delete the post or not the record of the post is maintained within the Chatter Compliance custom object for as long as you determine you want to keep it. You can use custom settings to set who should own the Chatter Compliance records after they are created, if you would like an email sent to an already existing compliance email box containing the data from within the post including attachments, and set your data retention policy for how long you would like to keep both the Chatter Compliance record as well as the related Chatter post. Compliance Locker by Arkus helps to ensure that all activities within Salesforce Chatter are tracked, stored, and reportable in the most meaningful way for compliance officers. And the best part of all this is that it is free of charge and an Aloha Application which means it doesn't count towards your tab limits!
Conclusion

One of the things we here at Arkus wanted to do was provide useful tools to help the wonderful ecosystem that Salesforce.com has provided us all. Compliance Locker is our first crack at it and we are very excited. Please feel free to check it out on the AppExchange and more importantly please feel free to reach out with any feedback. Whether it's a use case we didn't account for or general feedback on the product itself, it's all welcome.