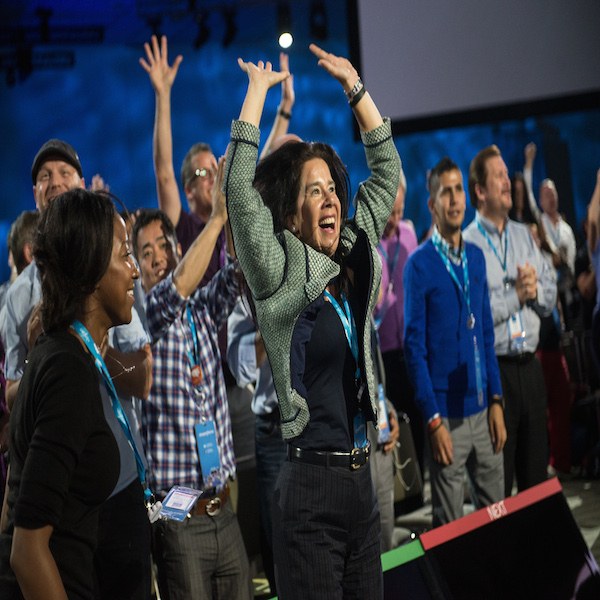 Dreamforce 14 Recap - Health & Wellness Takeaways
A review of some of the health and wellness takeaways from Dreamforce '14.
As mentioned in many previous blogs about Dreamforce, I am a huge fan of that fact that Salesforce dedicates part of their program to health and wellness.  This year was no different and I felt that the health and wellness theme was even more integrated into the conference then ever before.  Here are some takeaways from the four day conference worth mentioning.
Tony Robbins
I unfortunately missed Tony Robbins the last time he was at Dreamforce so I was very delighted to see him back this year and he didn't disappoint.  His approach might not be for everyone but his message is,The "Science of Achievement" is not just about setting a goal, it is about the feeling you get when you achieve the goal and the only way to achieve that goal is to be more engaging with your mind and body.  What a great message to start a week filled with engaging opportunities to create and build new relationships.  I hope you all took his advice and stepped out of your comfort zone.
DF '14: Health & Weight Loss Challenge
Big kudos to Bill Greenhaw for all the hard work he put in to make this such a success. If you don't know Bill's story, he is a Salesforce MVP who before last year's Dreamforce decided to "Engage" the Success Community to join him in his weight loss journey.  Over a year later he has over 400 members in the group and had a booth in the Admin Zone.  What a great place to meet some of the people I am collaborating with in the community.  I had the pleasure to meet Bill and other members of the group and it has motivated me even more to stay healthy and help as many others I can achieve the same thing.   In addition to the booth, over 100 participants from the Success Community joined together to run a 5K on Tuesday morning. It was a great way to stay fit while being at Dreamforce and another opportunity to meet some our fellow Dreamforce '14 attendees and Success Community friends.
Hillary Clinton, Al Gore + Puls
In addition to Tony Robbins, each day was packed with guest speakers with a health and wellness message. Tuesday started with Hillary Clinton who focused on the importance of language and reading development in our children.  Reading is one of the best ways to learn and grow. It is something we need to influence our children to do and also something we should all being doing as adults.  I took on a five page per day reading goal and am happy to say I now read a book every couple weeks.  It's addicting (in a good way) and you should try it.  Will.I.Am introduced us to the Puls on Wednesday evening and some of the key components of the new wearable was around fitness and emotion tracking.  The keynote provided only a glimpse of what it will be able to do but from what we saw it looks like it can do a lot of what a fitbit can do along with emotion tracking.  That is something I am very interested in and can't wait to learn more as information becomes available. How great would it be if this device could tell us how happy/positive we were during the day so we can be more aware of what we like and dislike? Lastly, Al Gore ended the conference with a powerful message about the environment.  The Earth provides us with all the ingredients for optimal health and we must be aware that what we put back into the earth affects those ingredients and can impact not only the environment but our individual health.  We all can do better to protect this world we live in.  As Al put it so powerfully, "We have only one home".
This Dreamforce was pretty amazing and I hope the focus on personal health and wellness continues.  I also hope everyone that attended the conference got as much out of it as I did. Whether it be eating better, moving a little more or just being more aware of the environment I hope you take that and apply it in your everyday life.  To quote Hillary Clinton, "Innovation, having fun and giving back should be the core values of everyone."
Please feel free to comment below, on the Salesforce Success Community, on our Facebook page, or directly at me on Twitter @Salvatoriello