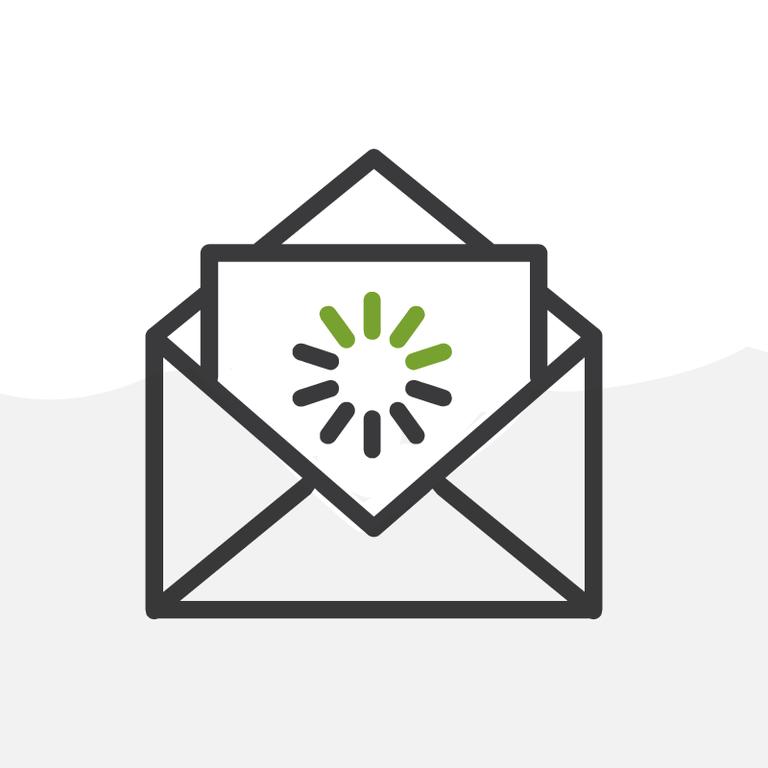 Happy New Customers!
Maintaining happy customers is an ongoing process for every organization, but you never get a second chance to make a good first impression.
Onboarding a new customer can be complex sometimes, with multiple steps and tasks assigned to employees in multiple departments of your organization. Some of these tasks need to be completed in a specific order before a customer is fully onboarded. Managing and maintaining these tasks can get complicated, and any hold up in the process can make for an unhappy first experience.
With a little planning and use of tools like the Process Builder or custom objects in Salesforce, you can automate these steps or create an onboarding checklist to streamline these processes and improve your customer's first experience.  
Here are some tips to help streamline and monitor your onboarding process:
Map out the Onboarding Process
The first thing your organization should do is map out the entire onboarding process from the customers' perspective. In this step you will want to determine all the tasks that need to be done, what stage of the process they need to be done in, what timeframe they need to be completed within, and which department or person needs to complete this task. Since the onboarding process could be different for each type of product or service offered, you should also map out a process for each one of these.
In order to do this, you may want to do something as low-tech as writing out each task on a sticky note and hanging them up on the wall. I used this technique several years ago trying to streamline the commercial lending onboarding process for a community bank, and we quickly ran out of sticky notes, as well as wall space. With the help of Salesforce, we were able to streamline and automate several steps of this process to help improve the customer onboarding experience, as well as free up some wall space. 
Process Automation
After mapping out the onboarding process, you can take all of those steps and put them to action using the Process Builder (which is by far my favorite tool in Salesforce). The Process Builder offers many different actions that can be automated at specific times like assigning tasks to a user, sending email alerts to customers requesting information, updating fields on objects, or posting a message to Chatter.
Each one of those tasks can be automated and triggered off of any field change and immediate actions like tasks or email alerts, as well as scheduled future actions like follow-up reviews or sending thank you cards can be created.
For example, the criteria for this process is started based on a closed/won opportunity where the product is a deposit account.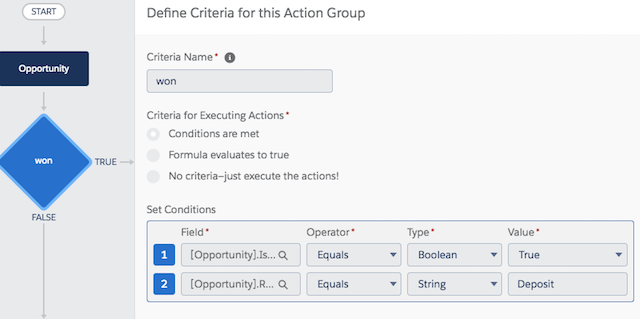 When these particular conditions are met, multiple actions are performed. In this example, a task is assigned to the opportunity owner to perform the necessary KYC checks on the customer.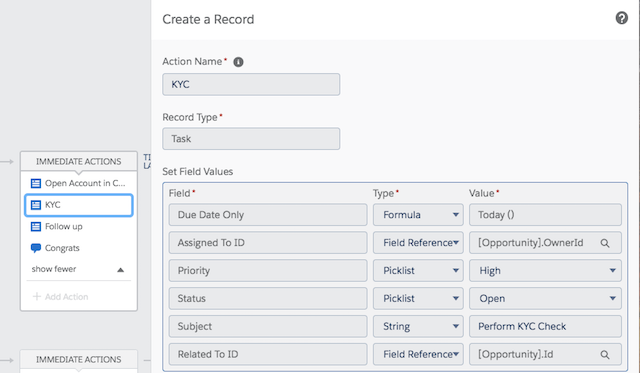 You can learn all about the magic of the Process Builder by going to Trailhead. Here is a good trail to get you starting on building your first process.
Onboarding Object
For more complicated onboarding processes, a separate onboarding custom object may be quite useful. With a separate custom object, you could create checklists with fields showing date completed for each step in the onboarding process. This could help with your automation by notifying the person responsible for completing the next step in the process. Stages can be added to the onboarding object, and with Salesforce Lightning, you can build a Path on your custom object to show guidance on items that need to be completed at that particular stage.
If the onboarding object contains lookup fields to an Opportunity or Account, you could use formula fields to bring in information from those objects, and use these to help generate the onboarding documents needed for your customers to sign (or esign) using tools like Conga, Drawloop, and Docusign, which can all be found on the AppExchange.
Measuring Happiness
When your initial onboarding process is complete, it is important to obtain feedback from your customer to determine their level of happiness with the process. This can be done by sending a survey with specific questions about the onboarding process. Effective surveys should be short and to the point to avoid dropout, and the responses should end up in Salesforce. These responses should be reviewed by the account manager or an individual in charge of your customer experience, and common complaints about your onboarding process should be discussed, with improvements made immediately to help make future happy customers.
Standard customer satisfaction and loyalty metrics like the Net Promoter Score should be used in your survey to determine how your customers felt after the onboarding process. Results from these surveys can be displayed on a dashboard or in a Chatter group for everyone to see. The Process Builder can also help by automatically sending the onboarding survey email template to your customer when an opportunity is marked as Closed/Won, and by notifying the account manager when results of the survey are received.
There are several survey tools on the AppExchange that can help you build integrated surveys with Salesforce.
Happy Customers :)
The most important objective for any business should be to have happy customers. Businesses with happy customers become successful and grow and those that do not quickly perish. Happy customers are your best advocates and turn into a great referral source, which leads to more happy customers, and then to even more happy customers.
Having a streamlined, pleasant, and engaging first experience for any new customer will create a lasting impression and lay the foundation for a long-term relationship.
Do you have any good tips on using Salesforce in your onboarding process? Let us know on the Salesforce Community or chat with me @ScottTSearle.