Lightning Migration Tips for Nonprofits
Tips to ease the transition your nonprofit will make to Lightning Experience.
Salesforce will be nudging users into the "Lightning Experience" from the previous version, referred to as "Salesforce Classic", beginning in October 2019. This transition to Lightning is in line with the direction of Salesforce as a whole as a large majority of the enhancements offered in releases now focus on the Lightning Experience.
This post is intended to provide a path with tips and suggestions to guide you along the way to Lightning success, and help ease any anxiety you may have about the change. We know that how we handle change is different for all of us. You can be assured that Salesforce has not taken this lightly and has provided a slew of resources to support you.
Path to Lightning Experience
There are many different ways to approach a Lightning Migration. We recommend nonprofits start with the Lightning Experience Transition Assistant, found in Setup. This contains the steps and the tools you'll need to succeed. Note that there are three phases: Discover, Roll Out, and Optimize. Listed below are tips and things to think about in each phase. Dig in and make it fun. Tally ho travellers!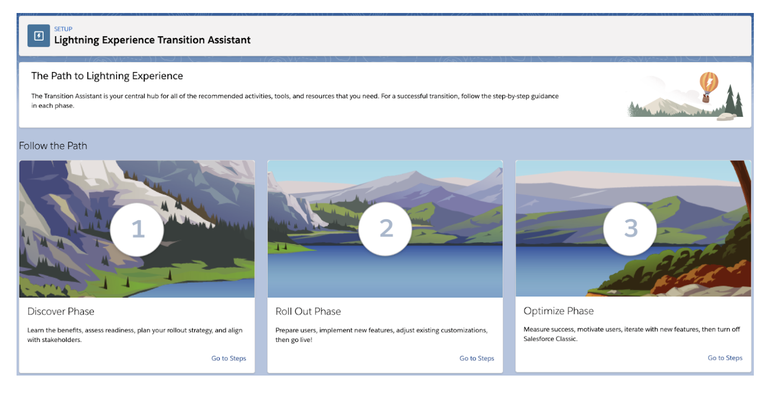 Discover: Do Your Homework
Ok. How do we get our plan in place? We start at the Discover Phase. This is where you're going to learn about why Lightning is so great, what your readiness is, and what your rollout strategy is going to be. The Assistant is going to walk you through each of these steps in this preparation phase. 
What else should you do at this point in your journey? Read the material and watch the videos to understand what Lightning provides, and think of ways to apply these new features in your organization. Hit the trail "Make the Move to Lightning Experience". Bring to light those pains and struggles that you and your team experience every day. Can Lightning reduce or eliminate these nuanced challenges? 
Lightning Experience is not only a user interface change, it also enables an admin to customize Salesforce in ways that previously could only be accomplished with code. The move to Lightning is an opportunity to re-engineer and create new functionality. Don't focus only on replicating what exists. 
Join the Lightning Now community and watch a webinar or two. Many of your fellow admins and users have already moved to Lightning and are excited to share their experiences. Read Cassidy's post on the some of the tools you're going to use and other best practices that are recommended. She digs into the Lightning Readiness Report. Run this report and begin to build your plan. Identify the areas that will need attention, what is needed to make them Lightning-ready, and what level of effort is required.
Reach out to your super-user(s) and get them on board with the plan to help champion this move. Try to find the one or more individuals that can help out by working within the user teams to calm their worries and build excitement for what's to come. Design the user feedback process. 
What will you have accomplished when you're finished with Phase One?
You will have:
Areas that need work to make them Lightning ready are documented

Rollout strategy is planned and documented

List has been made of Lightning features to enable

User champion(s) are on board

Stakeholder(s) are on board
Roll Out: Get Down & Get Funky
Shout it from the rooftops, "Lightning is coming". Communicate with your users and build their enthusiasm by telling them what's in it for them, and what the quick wins and ultimate rewards will be. Share the plan with them and discuss how they will be prepared and even assist. 
It's time now to enable the applicable Lightning features in your org. Tackle the areas that were identified in the previous phase as needing work using the transition tools Configuration Converter and Magic Mover. 
Create a permission set that includes the Lightning Experience User permission and apply the permission set to each Champion pilot user. Enable Lightning. Yes, flip the switch. Only the users assigned to the permission set will be able to switch to Lightning, and they can flip back and forth to Classic as needed until they are comfortable enough to stay in Lightning. Work with the Champions to fine-tune your pages and actions. 
Once your pilot team is satisfied and ready, work the plan to train the users. Train, train, and train some more. Offer lunch-and-learns, open office hours, one-on-ones, send out links to short videos. Introduce your team to Trailhead if they aren't already using it. Be patient and keep in mind that everyone is going through "change" in their own way and on their own timeline. 
Bring on the users according to plan, applying the permission set to each user or adjusting their profiles by checking off the Lightning Experience User permission. Gather their feedback and act on it as soon as possible. Utilize the Champions to work through issues or concerns that the users are experiencing.
Throw a party and celebrate. Go on, pizza for everyone!
Outcomes of this phase:
Identified issues resolved or mitigated

Lightning enabled and users live

Initial and on-going training

User feedback

Lessons learned

Party!
Optimize: Measure & Tweak
Wait, I'm not done? Of course not. It's time to keep up with the feedback and make modifications according to priority. Document and work on any new use cases. Make good use of the numerable tools and resources provided to you by Salesforce. 
What's the best way to do this? We're following up this post with another detailing our recommendations for how to best optimize your Lightning Experience post-migration in a post on the Salesforce.org. Look out for another post from Cassidy Donelley here on the Arkus blog with more Lightning tips coming up that will link to this Salesforce.org post. 
What has your experience been and what have you learned in these first two phases? Let us know in the comments below, in the Salesforce Trailblazer Community or chat with me directly via Twitter at @sfdcclicks.