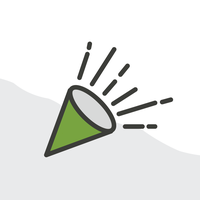 Admin Quick Tips from Arkus Pro Bono Day Summer 21
Quick lessons on duplicates management, the Pardot sync, and critical updates, in this look at our recent Arkus Pro Bono Day.
There are many ways to give back as an organization, and one of our favorites has been hosting what we call Pro Bono Days since we launched this event series in 2015.
Traditionally we hold these semi-annual give-back events in person — the last one was at the Salesforce Tower in New York City — and invite local nonprofit employees to join us for breakfast and lunch and a give-back day of free services with the Arkus team. 
As 2020 saw the need to rethink events in person, we made the move to host our Pro Bono Days virtually too. The workshops were shifted online and virtual time lined up for nonprofit Salesforce users to meet individually with our Project Management team.
We've been a remote company since our founding in 2010 and being able to meet several times a year in person at a Pro Bono Day has always been a big part of what made these events a favorite, but our remote ability makes the different format work as well. Scroll to the end of this post for more info on our next Pro Bono Day and how to get free time with our team in one of these exclusive nonprofit employee sessions.
Pro Bono Days are only accessible live so we're covering highlights of what happened and some of what we learned in this post. You can find videos of our other events by clicking here or in the Events tab of our website nav above. 
Read on for quick tips to ease your duplicate woes, master the Pardot sync, and handle critical updates like the pros. 
What Went Down at Pro Bono Day Online 
Arkus Project Manager and Master of Ceremonies Iva Mandic kicked off the day with a welcome and run-through of the workshops planned. After that, we started out with a look at the Salesforce Pro Bono Program. You can learn more about their pro bono help and program in this post on other Pro Bono Resources.
After introductions, we dove into our main sessions.
Keeping Your Duplicates Under Control
Want to know a secret? Every org has duplicates, some just have more than others. Scott Searle, Arkus Senior Project Manager, hosted our first session on the oft-requested topic of duplicates management and how to be one of those orgs that have their duplicates under control. 
Duplicates are critical to manage because they impact data integrity and with too many, you risk lower user adoption and inaccurate donor history. They also threaten overall organizational integrity and can cause a number of problems, including unnecessary higher costs because of inaccurate mailing lists.
Scott's Top Tips for Keeping Duplicates Under Control:
Review and merge duplicates on a regular basis

Constantly train employees on proper procedures when creating new records

Activate duplicate rules early on in your implementation even if you don't think you need them...because eventually, you will!

Use fuzzy logic when searching for duplicate data you are certain could be spelled in various ways, such as Arkus, Inc. or Arkus Inc or Arkus Inc.

Centralize data loading

Duplicate rules can apply to any object in Salesforce
Solving Pardot Mysteries 
Sam Safin, Arkus Senior Project Manager, 12x Salesforce certified Pardot expert, and Salesforce Marketing Champion, next led a session on understanding the Pardot Sync. Here are her top resource recommendations for how you, too, can master the sync.
A comprehensive breakdown that combines multiple Salesforce help articles and covers much of what we discussed here today.
The full list of the most common Pardot sync errors with links to more in-depth information about each one.
What happens when you merge or delete records in Salesforce that sync with Pardot?
Critical Update Review
Arkus Dev Team Lead Manager Mario Di Genio led the last session of the day covering Critical Updates and how to navigate them. 
To start off, he went over the differences between Salesforce Releases, Feature Retirement / End of Life / End of Support announcements, and Critical Updates / Release Updates. Here's a summary of those differences:
Salesforce Releases
Contains new features and improvements.

Usually releases don't break any customization you already have, they just add features to the tool box Salesforce provides to create new ones.

Backward compatibility

Distribution: Each release happens automatically on specific dates that are published up to a year in advance on the Salesforce Trust website

3 per year: Winter, Spring, Summer.

Releases cannot be activated beforehand, but some sandboxes may get a preview a month before the production release.

Announced by all channels.

Release notes are distributed.
Feature Retirement / End of Life / End of Support
A

discontinuation of a feature

:

You will no longer be able to create new customizations using that feature.

Existing customizations using that feature will no longer work and you will have to find a replacement for them (you can't fix what will not be provided by the platform anymore).

An

discontinuation of support

of a feature:

You will no longer be able to create new customizations using that feature.

Existing customizations using that feature may continue to work, BUT may eventually break unexpectedly because future platform updates will not consider it under their umbrella to support. Depending on the case you may fix them or upgrade them to a supported version.

Distributed

ad-hoc.

Announced

mainly by email.

You can see the list of all available updates under

Setup > Release Updates

of your org.
Critical Updates / Release Updates
Updates additional to the Release.

Improve

the performance, security, logic, and usability of certain features or the overall platform.

But this also means they may change the way some features work, which is their downside, that unlike regular releases, these updates can affect your existing customizations and may even break them.

Distributed

ad-hoc. They don't happen on a regular basis and they are announced as they become available.

They can be

activated beforehand

to test their impact on your org.

Announced

mainly by email.

You can see the list of all available updates under

Setup > Release Updates

of your org.
So how do you handle each of these different types? Mario went in-depth on each in the live session. Here are some of his overall recommendations.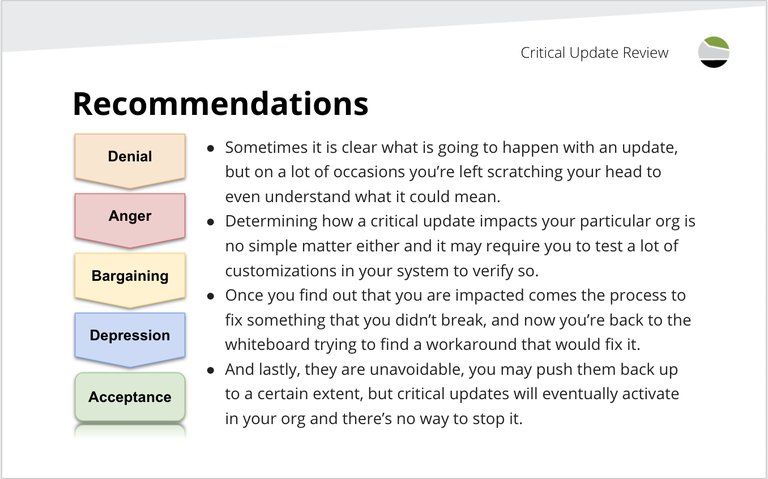 More recommendations
Keeping your org healthy takes time, but it pays off (sometimes less is truly more). Here are our recommendations to keep up with your org maintenance:
Don't procrastinate, start as soon as possible. Any time you spend cleaning up your org is time saved in future development shifting through things that may no longer be used.

Keep a log of all your features: who requested it, what is supposed to do, last time reviewed, anything that can give you an idea of its usage.

Make it a recurrent task at least once a year to review the usage of each feature and consider retirement if no longer used or needed.

Make regular backups of your metadata to have snapshots of your org configuration after deployment of new features or deletion of deprecated ones.
Where to Go For Help From Here
This was only a quick look at what we covered and some of our top takeaways. We hosted a great group with individual sessions at the end of the day that attendees signed up for in advance. What did those who joined us think of the day? Here is some of our feedback:
"I thought the entire event was great. I learned a lot. These all happened to be topics I needed to know more about! And my 1:1 was super helpful as well. So great that you provide this! Thank you!" 
"Overall the pro-bono day was EXCELLENT - thank you for hosting this and having great speakers!"
Upcoming Pro Bono Days & Free Help
If you missed Pro Bono Day, we're hosting our next one in September online and will be back then with the chance to learn in workshops and meet one-to-one with an Arkus Project Manager for free help. In the meantime, you can get help on these topics and more in a few different places. 
Ask your questions on the Power of Us Hub (you can find us in the Arkus group there) or in the Trailblazer Community (where there is also an Arkus group). Read more about Pro Bono Resources and community groups here. You're in what we think is another great resource, the Arkus blog, right now. We celebrated ten years of the Arkus blog last year and you can find many posts in the archive on these above topics and more. Use the search bar at the top and tags to explore. 
If you would like to be a part of our next Pro Bono Day, sign up for our Arkus newsletter. We'll send out notice there for when it is happening. Follow the Arkus Twitter @ArkusInc for updates on our events and work, including the next Pro Bono Day too. 
Is there a topic you would like to see covered in a future Arkus workshop? Let me know in the Salesforce Trailblazer Community or chat with me @ktatwd.