Salesforce Resources for Students: Trailhead
Part one of a recent graduate's guide to navigating the Salesforce ecosystem and the resources available to help students achieve success.
The intent of this series is to share my experience and recommended tips with other college or even high school students considering a career with Salesforce. If you are not a student reading this blog, I encourage you to use this post to reflect on how you could help empower students and others starting their Salesforce journey. In the first installment, I'll cover Trailhead and suggestions for making the most of this Salesforce learning platform. 
Another recent grad and Arkus team member, Iva Mandic, recently wrote a post about her journey from student to project manager: "Tips and Tricks to Land a Job in the Salesforce Ecosystem." In this post I'll dive into some of the resources she mentions and cover a few more that helped me and may help you stay in the ecosystem after graduation. 
Getting Started with Trailhead 
The first place anyone will tell you to start learning Salesforce is Trailhead. However, just jumping onto Trailhead can be overwhelming and hard to navigate at first. I think the best way to explain Trailhead is by using the metaphor of a school. Trailhead is the school. Trailmixes are your classes. They have a specified set of objectives you should master in order to successfully complete the trailmix. These objectives are broken down into class assignments, Salesforce calls them trails or modules. 
Modules provide the material in easily understandable ways with questions and practice problems that ensure you've retained the information. When you successfully complete modules you receive points and a badge, your grade. Once you have completed all the modules in a trailmix, you have passed your class. The more badges and points you earn the more knowledge you have mastered on your journey. Over time you'll build up your transcript — aka skill set. See my "transcript" below.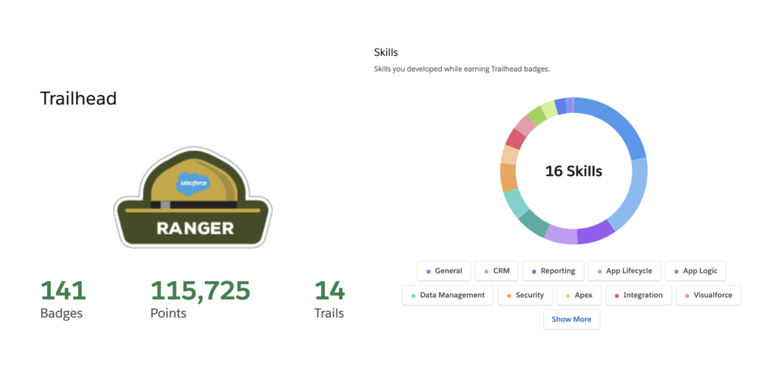 Diving Deeper into Trailhead
After you have successfully completed a few trailmixes or trails, maybe you'll want to pursue a research project. Trailhead has superbadges and projects to further challenge the skills you are learning. Projects present an in-depth business problem and walk you through the step by step actions to solve the problem. Superbadges require more independent research. Superbadges describe complex business problems without the hand holding, and force you to utilize all your learned skills to complete the badge. 
If you're struggling or confused about where you want your Salesforce path to lead, visit the Careers page. It's similar to a school Career Center as they provide industry knowledge, user stories, resume tips, and direction on where to start. I've explored every feature of this page and particularly enjoy the ability to learn about a day-in-the-life, average salary, and growth rate of the field for specific careers. 
For additional extra curriculars, there are endless opportunities to become immersed in Salesforce within Trailhead. Podcasts, Trailhead Live (webinars), trailblazer stories, and now the ability to connect with a Salesforce mentor!
Trailhead Tips and Takeaways
All the badges and superbadges are very rewarding to complete. The material is genuinely not boring nor a struggle to read like your typical assigned school book. There are even unique modules related to mindfulness, wellbeing, productivity, and more. Businesses recognize the work and initiative it takes to complete Trailhead tasks, so make sure to include accomplished superbadges and trailmixes on your resume.
For more information on Trailhead resources, check out additional Arkus content:
Trailhead is the place to start when learning Salesforce, but it can take a second to grasp and navigate everything Trailhead has to offer. Keep pushing through and reach out for help when you need it. In parts two and three of our "Salesforce Resources for Students" series, I will discuss Trailblazer Community Groups, Seeking an Internship, and Salesforce Student Contests.
What Trailhead badges are you planning to achieve next? Tell me about them on the Salesforce Trailblazer Community, or tweet directly at me on Twitter @StallMackenzie.