The Expert's Guide to Everything Dreamforce '23
Here's one more guide to Dreamforce, this time diving into the events on our list and a round-up of resources.
The Dreamforce excitement is growing and the buzz is starting to get louder. The Arkus team is excited to round up and recap our collected recommendations and call out several exciting events we're headed to. There is a lot to cover! 
From a key dinner we're sponsoring with Salesforce to a bevy of speaker sessions Arkies are leading around town, here is our guide to Dreamforce '23 from a dream team of Arkies who have decades of Dreamforce experience.
We're starting off this list with one we're particularly excited for — our Day of Learning with SUMO Scheduler at the City Club on September 12th. Keep reading and scrolling for more events, including the Salesforce Nonprofit Community & International Dinner held later that night.  
Headed to Dreamforce with a full pass? In the area but not going to the big conference? Yes! You're invited to this Arkus Day of Learning. There will be circles of success-style tables for Q&A, breakfast, lunch, time for networking, learning, and more.
The registration list of awesome organizations is growing and the Arkies headed to town are prepping their speaker sessions. Find more in the event section about this event or hop over to the registration page right now. We are planting 5 trees for every person who registers in advance to join us! We will also be offering more opportunities to join us in planting more trees throughout the day.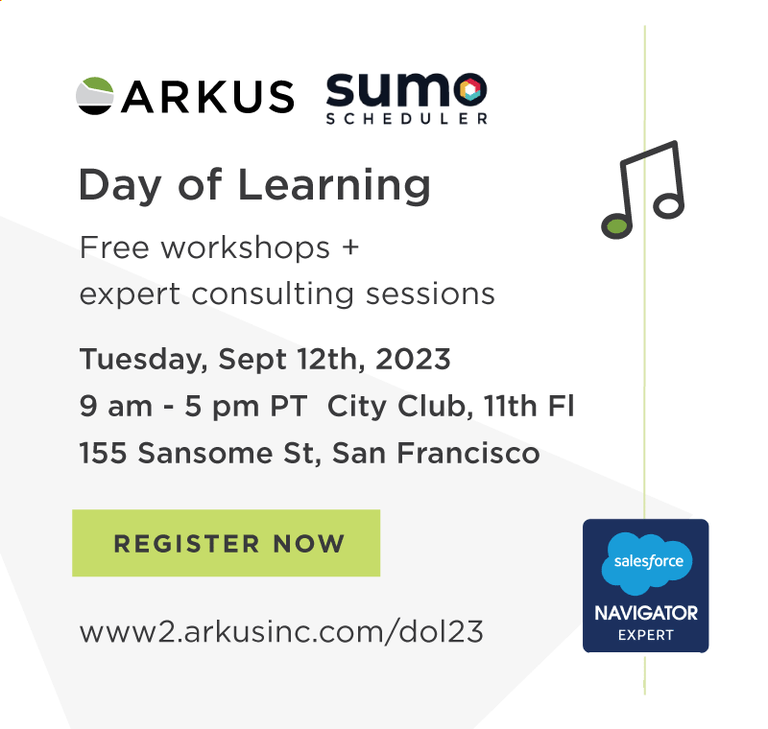 Note for the Remote: You can still enjoy Dreamforce from afar and for free. This post covers a lot of info for those who are headed to the event in person, but fear not. If you would like to tune into keynotes and other content you can head over to the free Dreamforce virtual registration here. 
If you want to meet up with Arkies in person, find more info on that in the last section of this post after our events list.
Dreamforce Session Guides
We won't call out the number of possible sessions there are... you can find that in many of the other posts we're linking below. It's a lot. There are sessions for all specialties and there are many places to find posts pointing out great sessions. So slip into a hoodie, sit back with a coffee, and pursue the Salesforce official agenda builder, scroll through a sea of LinkedIn posts, or start with a blog post or two that call out recommendations from a trusted team.
We humbly suggest starting with one or all of ours. 
Arkus works with clients across industries but we have incredible experience and specializations in two areas: nonprofits and financial services organizations. We've created guides for each and a third to cover the places our expert team is going to be. Check these out. 
Arkus Financial Services Cloud Accredited Professional Kate Lessard has built a list of session recommendations for those working with or soon-to-be working with Financial Services Cloud. From banking to insurance, to FSC basics, or taking your skill set to the next level, these are her picks for the sessions to not miss. 
AI is everywhere this year and the FSC world is no exception, but there are plenty of sessions that deep dive into other areas of focus. Dive into this guide for more. 
Arkus is honored to support many incredible nonprofits in their work as they draw on the power of the Salesforce platform to further deliver on their mission. We drew on our experience as Salesforce consults with decades of experience supporting them to create another guide just for nonprofits.
As the Dreamforce presence has changed a bit with .org merging into Salesforce, we have seen a need to support our nonprofit clients and community in new ways. That goes for Dreamforce where the experience is still shifting after this change and the impact of the past few years. Check out this guide for a look at the sessions we believe nonprofits would most benefit from attending. Read the post. 
We are so excited to celebrate a number of our team members who will be speaking at Dreamforce this year. From study hacks to client success, Arkies are ready to rock the stage. Check out the full list of our speaker sessions and other events in this post from Kate Lessard. 
Timeless Dreamforce Tips and Resources 
Along with session specifics, we also have recommendations on how to get the most out of your conference experience. Dip into the Arkus archives for these two. 
CEO Jason Atwood covers 10 tips from his first 10 years of Dreamforce. Which ones still ring true? Do you power up or know how to last with layers? Read the post.
In another popular post from the past, Hayley Tuller covered how to rock Dreamforce even if crowds are not your thing. "If the idea of sharing Dreamforce with about 170,000 of your best friends has you wanting to take a big old nap, fear no more." Read the post!
More Awesome Dreamforce Events 
There are several other key events our team is excited to attend. A few of these have gone to waitlist and we still wanted to put them on your radar. Add your name to the list using the links below or reach out to the Arkus team using our Dreamforce contact form or connect with us on LinkedIn.
There are, of course, many other events happening the week of Dreamforce. There are a number of other awesome guides out there. Check LinkedIn, the Trailblazer Community, or a browser search to find other happenings. Better yet, ask a friend. Connect with us using the contact form above!
Now onto the events and the links to register, starting with the event we're hosting: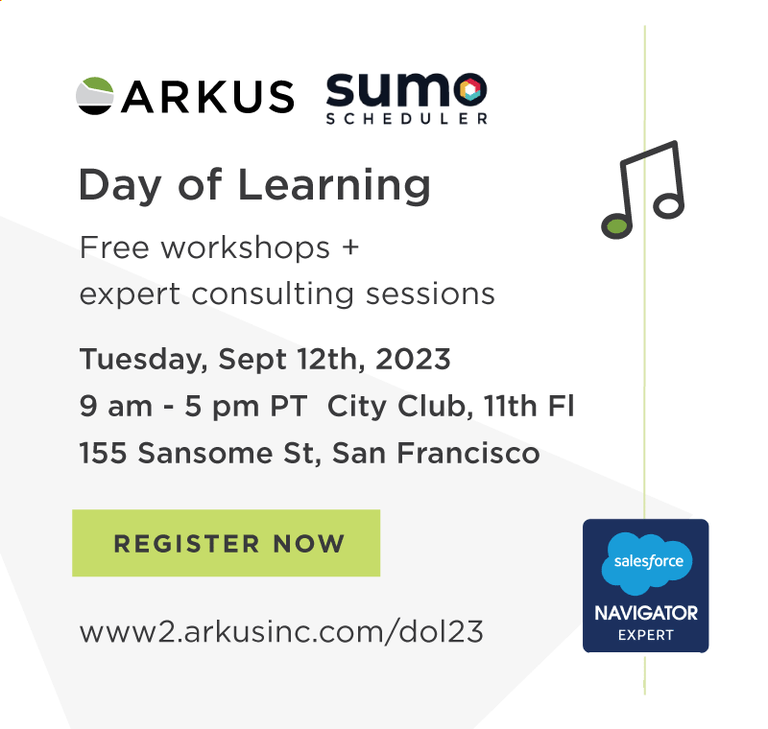 Tuesday, September 12, 2023, 9:00 AM – 5:00 PDT City Club, San Francisco
Find all the info and details for this exciting event we are hosting with free workshops, sessions, Q&A, networking, collaboration — and stellar sessions led by our lead Delivery Team Manager for the event, Kate Lessard — over on the registration page.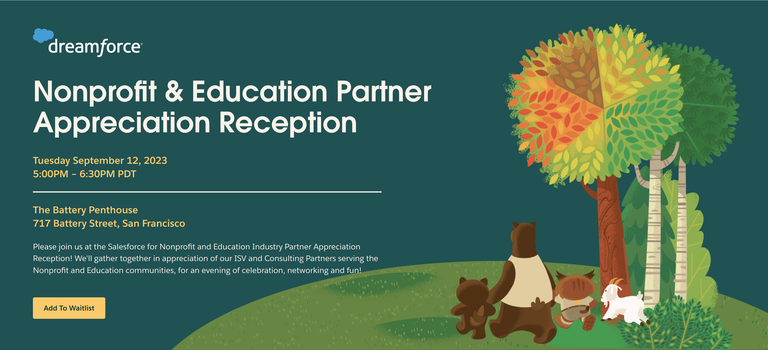 Tuesday, September 12, 2023, 5:00 PM – 6:30 PM PDT The Battery Penthouse, 717 Battery Street, San Francisco
Please join us at the Salesforce for Nonprofit and Education Industry Partner Appreciation Reception! We'll gather together in appreciation of our ISV and Consulting Partners serving the Nonprofit and Education communities, for an evening of celebration, networking, and fun!

Tuesday, September, 12th, 2023 from 5:30 PM – 7:30 PM PDT, Sam's Grill & Tavern 374 Bush St, San Francisco
Network and collaborate at our Nonprofit Community and International Dinner with directors and team members, driving impactful global connections and collective impact in the nonprofit sector. Arkus is honored to be the sole SI sponsor of this event.
We have reached capacity with a waitlist. Full details and waitlist registration can be found here.

Thursday, Sept 14th from 7:30 AM to 10:30 AM The Julia Morgan Ballroom 465 California St #5th, San Francisco
2023 marks the 10th anniversary of Amplify! Amplify is so grateful to our entire community for the last decade of developing diverse leaders in technology. We will be live and in person as a community for the first time since 2019 for the 10th Anniversary Celebration during Dreamforce. Join this for breakfast, conversation, and inspiration (and, yes, a mimosa if you'd like!) on Thursday, September 14 at the beautiful Julia Morgan Ballroom in San Francisco. Click the header or here for more details and to register.
Catch Up with Arkies at Dreamforce 
Arkies are so excited to be back with our community. We want to see you there! Whether you're interested in talking about a project for your organization, joining the team, collaborating in another way, or just want to hang out and ask Delivery Team Manager Berkely Baker or President of Sales Ryan Boyle about karaoke — Arkus is here for you. 
Reach out to connect with our team about scheduling some time with us using this link. 
We are also hosting a Happy Hour on Tuesday evening. Use the form or DM us on LinkedIn if you would like to join in. We have some extra space and drinks on us for those who connect! 
Follow Arkus on LinkedIn for more event updates. Sign up for our blog newsletter in the portlet on the right and include event updates to get other invites and a once-a-month newsletter in your inbox. As always, if you would like to talk more about working with Arkus and our services you can reach out using our contact form.