Celebrating Ten Years of Arkus
Happy Arkyversary! We're celebrating ten years as a company in the cloud with this look back and some new news.
September 1st, 2020 marks our ten year company anniversary. Or as we like to call it, our Tenth Arkyversary. In the past decade, we've grown from three original co-founders, our mascot the Arkus rock, and an intern, to a company of almost 40 people. Today, our remote team is made up of expert admins, consultants, and developers working coast to coast, plus a new mascot, Aria Arkus the superhero. Here are some of the highlights of what's happened in the last decade and some exciting updates. 
Client Success
As a Salesforce.org Premium Partner and a Salesforce Gold Partner, we team up with all kinds of companies and organizations, primarily nonprofits and those in the financial services industry. Our clients have always been varied in their size, structure, and focus. 
The most rewarding part of our work is empowering the teams that choose us with the tools they need and watching them succeed. This is particularly true of our many nonprofit clients. In the past decade, we've partnered with nonprofit organizations ranging from museums to groups at work reforesting our planet to global nonprofits championing human rights causes. We're set to hit the 500 client mark this month and we completed our 1,000th Salesforce project last year, so we know our approach works. The celebration of our ten years of success is also a celebration of what our clients have accomplished in the past decade.
Last year, FormAssembly shared the story of Eden Reforestation and how our joint effort is making it possible for them to rebuild natural landscapes destroyed by deforestation in developing countries. Check out Eden and their great work on their site.
Our work with CNIB is making it possible for individuals with low or no vision in the Canadian provinces to have easier access to the services they need, including visits from a mobile eye care clinic and seeing eye dog support. As CNIB team members themselves face difficulties with vision impairment, ensuring their set-up of Salesforce is accessible to everyone was a top concern. If you're wondering how Salesforce can be made accessible to those with differing types of abilities read the CNIB story on the Salesforce.org site. Visit the CNIB website to learn more about their work and support them. 
We're honored to have clients that have partnered with us from the very start. Amanda Blue has worked with Arkus since 2013, and has taken us with her from one company to another.
 "I have been working with Arkus for 7 years. I started my career as a Salesforce Administrator at a small not-for-profit company with zero Salesforce experience. At the time, our Salesforce Account Exec recommended Arkus to do the implementation. They were amazing. Not only, did they complete the Salesforce implementation and help train users, but they trained me on how to support everything moving forward.
When I moved to Nelnet, I knew I needed their help, so I brought them along with me. They approach every project with enthusiasm and energy. Every person I have worked with at Arkus has demonstrated a superior knowledge of the platform on top of having excellent project management and communication skills. All the projects that they have completed for me have come in on time, under budget, and beyond expectations. They do an amazing job of listening to the business need and interpreting that into Salesforce development. They are not only a business partner and consultant, they are an irreplaceable part of my team."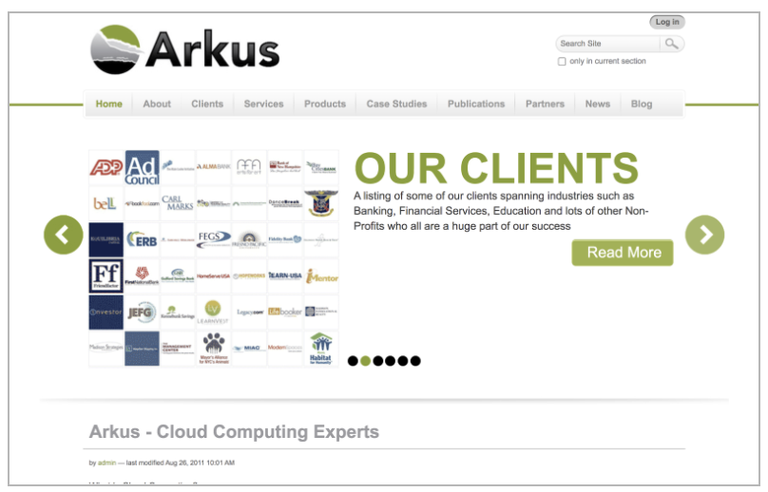 The Original Arkus Website
It is also an honor to have partnered with PAWS Chicago to help them become a paperless pet clinic, with West Side Campaign Against Hunger to help them streamline their Mobile Pantry Program, with Wisconsin Women's Health Foundation to set up an online community that now connects thousands of Wisconsin women each year with events, counseling, and referral services, along with the Los Angeles Dodgers Foundation, Goodwill San Francisco, Thread, Restore, and ProPublica, and more. We are so appreciative of all our awesome clients for the work they are doing in our communities. 
Salesforce Partnership 
None of this would be possible without our partnership with Salesforce and Salesforce.org. In celebration of our decade working together, two members of the Salesforce team sent us their reflections on Arkus' milestone and our work together.
Michael Perez, Area Vice President, Nonprofits, North America, at Salesforce.org wrote, "Congratulations to the Arkus team on your 10 year anniversary. Our partnership with Arkus is grounded in our shared values of customer success, innovation, and growth. The investments Arkus made in its people and processes contributed directly to our customers' success and the deepening of our partnership. I am grateful for the strong collaboration between our teams and looking forward to the next 10 years." 
And Dave Averill, Vice President Global Alliances at Salesforce.org said, "Arkus has proven over and over throughout the last 10 years that they are a top partner our customers can trust. They focus on being a true expert consultant giving clear advice with a deep focus on how their work will drive more impact for our customers."
Several years ago we also began a tradition of hosting Pro Bono Days. We've held 11 so far and look forward to more to come. While recent Pro Bono Days have been held virtually, we look forward to returning to in-person gatherings soon. Guests have included Judi Sohn, Director, Customer Centric Engineering at Salesforce.org, and Victor Ninninger, Specialist, Pro Bono Programs at Salesforce.org. Over the years, we've had the privilege of meeting hundreds of different nonprofit employees for this free day of consulting help with our team. Read about our last in-person Pro Bono Day hosted with Salesforce on the Ohana Floor in New York city in this post. 
Ecosystem Development
Just as no Arkyversay celebration would be complete without a celebration of our clients' work, we must note that we certainly wouldn't be here if it wasn't for every member of our team and their hard work. We're proud to be a company made up of everyone from recent grads to mid-career move makers, from Salesforce MVPs to new admins working to hit the Ranger mark.  
Read the awesome story behind admin Samantha Safin's journey to join the Arkus team in this interview on the Formstack site and check out Arkus Project Manager Hayley Tuller's story on the VetForce blog in her feature "A Day in the Life of a Salesforce Consultant". Arkus is a VetForce partner and we encourage everyone in the Salesforce ecosystem to learn more about the awesome work VetForce does connecting veterans and military spouses to Salesforce careers.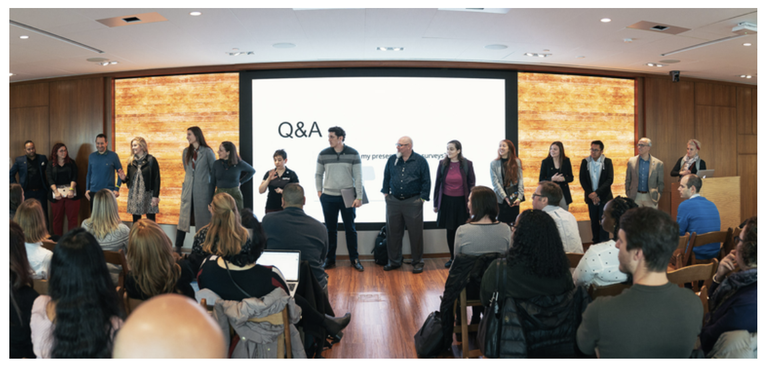 The Arkus Team at our last in-person Pro Bono Day
As a company focused on supporting nonprofits, helping new admins get started has always been of particular interest to us, especially those in underrepresented demographics. We have long partnered with PepUP Tech, volunteering time to work with students and alum. We're also proud to support Amplify and highly suggest you check out the work of both organizations. 
Shirlene Chow, Senior Director, Trailhead Placement, reflected on our work in the ecosystem saying, "Arkus has been an integral part of early career Salesforce talent initiatives for the past few years. From judging case competitions, recruiting at Dreamforce and TrailheaDX Career Fairs, and career advising VTO to fundraising for workforce development organizations like PepUpTech, and hiring students and graduates from our programs, Arkus have been fantastic partners in the growing early career talent in the Salesforce Ecosystem. Thank you for your investment in young Trailblazers and growing our Trailblazer Community!"
There are a number of posts by project managers on our blog that chronicle their journey from school to Salesforce admin. Iva Mandic tells how she made the move from student to full-time admin in her first post on the Arkus blog.
Mackenzie Stall put together a three-part series on Salesforce resources for students; in post one she covers Trailhead and post two is all about community resources. In post three, she shares the story of the Salesforce Dreamforce Contest win that led to her joining the Arkus team. Read through her posts for tips on how you can win a future Salesforce contest too.
Shout out to our awesome team of Arkies for all they do and their hard work! 
New Adventures
What's new and what's to come? This year we hosted our first webinar and have more in the works for the coming months. Check out our first two webinars on how to move successfully from Raiser's Edge to Salesforce and Custom Mobile Communities with Eisenhower Fellowships. Follow us on Twitter for details on the next one. 
Earlier this year we also began sending out our top Arkus blog posts in a monthly recap newsletter. You can sign up for the newsletter here. We also have an Arkus YouTube channel with demos and updates for our free apps Clone This User and The Permissioner.
Finally, to coincide with our ten-year celebrations we're launching a logo refresh. Our original logo has been with us from the start and we decided it was time for a streamlined update. The gradient is gone and so is the point to one side. We've swapped out the lowercase text for a sans serif you might recognize. See the side by side here. 



Connect with Arkus
If you're new to the Salesforce ecosystem and looking to get started as an admin, welcome. If you're a current client or worked with us on one of our first 1,000 projects, thank you. If you're considering working with our team for the first time or you're ready to rejoin us, we'd love to connect, reach out and connect with us on Twitter @ArkusInc, LinkedIn, the Trailblazer Community, and the Power of Us Hub. You'll find info about upcoming events, webinars, posts, podcasts, and more in each of these places. 
What's your favorite Arkus memory? We'd love to hear from you to celebrate this day. Send me a tweet @Salvatoriello or comment in the Power of Us Hub. 
We look forward to connecting with you in the cloud, on one of our next 1,000 projects, and in the next ten years!